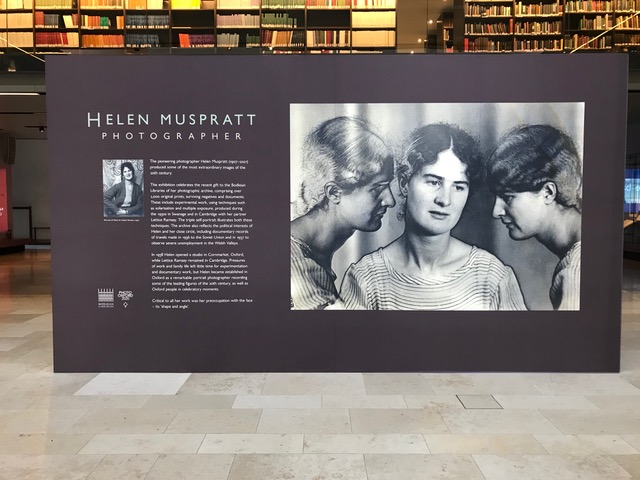 Many of you will already know the wonderful news that the Bodleian Library in Oxford has accepted our gift of the Helen Muspratt Archive. We were thrilled that our collection of over 2,000 original prints, 30 old biscuit tins of negatives covering almost 30,000 sittings from her Oxford Studio, and numerous documents and letters, had found a home in one of the most prestigious libraries in the world and in the very city where Helen lived and worked for most of her active life.
Since our first meeting with the Director, Richard Ovenden in January 2018, I have been making a draft catalogue of all the prints, papers and a few of the negatives and the archive is now safely installed at the Bodleian apart from some personal letters which have yet to be sorted.
Meanwhile, the Bodleian decided to celebrate the gift with an exhibition of my mother's work in the newly refurbished Weston Library and appointed me as the curator (with a great deal of help from the staff and designers at the Bodleian). This was planned for October 2020 but the dreaded Covid cast its shadow and I feared it might be cancelled. However, I have continued to work closely with the exhibition's organisers and the exhibition opened yesterday! Sadly, there was no opening event because of Covid but Robin and I were there all day yesterday and were very pleased with the result.
The exhibition will almost certainly continue up to Christmas and possibly beyond. The Communications Team are working on the publicity and the Publications Team are hoping to publish a special book of Helen's photographs next year. The Education Department are also working with a local FE college for whom I am preparing an online lecture.
The exhibition will be part of the Photo Oxford Festival which will also take place this Autumn. I will be taking part in an online conference: "Let us now praise Famous Women: women's labour to uncover the works of female photographers" on 24th October when I will give a talk on how I researched my book and assembled the Archive.
The Weston Building is open every day from 10am to 5pm; Sundays: 11am to 5pm. The exhibition is free and they are not operating a booking system.
Please check on the Bodleian website before travelling: https://visit.bodleian.ox.ac.uk/event/helen-muspratt-photographer.
So many thanks to all the people who helped this to happen over the past few years.
Helen would be amazed!
Jessica